Weekly Wrap. Week 5
Whoa, 4 out of 4 blog posts in month of January. Some of the blogposts came out easily and seamlessly, others started with some struggles, but by the end I was happy about those. In overall, from blogging perspective, January was a successful month and  I hope to continue with the same momentum throughout the year. Hopefully I have picked up few new readers here and there and I am very grateful for each and everyone of you who spends time reading my posts. As always, feel free to share some feedback and point out the things you do or do not like below in the comments section.
Coming back to the overview of week 5 – I think it became most mentally exhausting week in the whole January and it tried to break me at so many points. It was not even funny at some point. It all started with the fact that I had to travel to Denmark once more, for a day-long workshop. It was not that long ago, in fact, I came back from home from previous business trip the other week on Friday. So it meant that I stayed at home throughout the weekend and Monday and flew away to the usual part of Scandinavia on Tuesday. At first glance, nothing extraordinary, another business trip. Moreover, I have handled all my previous business trips rather well, I managed to train within the given sessions. This one was even shorter – so it was supposed to be even easier to deal with. I have planned it thoroughly, my coach updated my training sessions for this week – all seemed to be align itself pretty well and off I went to Copenhagen.
Colour coded weeks.
On the screenshot of weekly wrap, 3 out of 6 training sessions are marked as incompete. However it is true only for the Sunday's run, where I had to shorten my previously advertised half-marathon Sunday morning. Me and Dovile are renovating our house bit by bit and on Sunday we were sanding the floor in our bedroom. At first it was estimated that it will be easy and should not take more than 3-4 hours to have it at desired state. However the state of the wood and floor in our bedroom required much more attention and effort, that we have planned. Due to that most of the Sunday was spent with the sanding machine, a respiratory mask and within one room, almost 7 hours of sanding. In those 7 hours, thanks to my supporting wife, I was able to take a break and go for a shorter run. From my planned 1 hour 45 minutes, I run only 1 hour 20, which meant that I "snatched" around 25 minutes out of my main "endurance" set. Nethertheless, the shortened run was a good change of scenery and air, it felt productive and in the end, I think that it was good to have a go at making myself move and do some running.
The other two sessions marked in yellow, simply mean that I have done them in a shorter time than it was foreseen by my coach. I have covered the required swimming distance faster than it was planned. This is mainly due to my improved swimming capabilities. I started out with a much slower pace, during our test in the middle of November – then we established that my critical swim speed or CSS for, was 1:45 min for 100 meters intervals. It meant that I almost had to go "all out" to achieve that speed for 100 meters. Last week however, I managed to maintain the same pace with a bit of an ease and comfort, which meant that we progressed really well in the swimming. Thursday session was a great breakthrough in general – where out of 18 intervals for 100 meters, I swam all of them under 1:38 minutres for 100 meter. All those intervals were done with a moderate comfort and perceived effort did not exceed 7 out of 10 points, whgere 10 would be the maxium. In week 6 I have a planned test to review my CSS and update the metrics, which I should adhere to further on. Eventhough, the test is far away – on Friday, I am sort of anxious about it. As during such tests you have to do some efforts at your maximum. In this particular CSS test, it will be 200 meter and 400 meter back to back efforts at "all out" pace. I even shivered, when I typed it down. Will keep you posted on the progress.
Travelling Triathlete through  Tough Times
What my "colour-coded" week view in TrainingPeaks.com does not show – that are small things which happened to me during my visit in Copenhagen and which were putting me on the edge of my capacity to withstand things going the wrong way.
During my stay of 3 days, I had to attend a workshop and meet Apple in the center of Copenhagen. Usually I stay at the outskirts of it, as our primary IT office is located about 15 kilometers outside of the city center. This time, however, most of my whereabouts placed me close to the center and I decided to book a hotel close to it as well. I was staying in Tivoli hotel, which is a luxurious hotel, very close to central train station,  spacious rooms and have heard only good things about it. Prior to confirm the booking of the hotel, I checked how do its fitness facilities look like and the webpage presented fitness center to be on the same high level of quality: I could count about 5 stationary bikes and at least 6 treadmills, and on top of that – there was a small pool. On paper, it was a great opportunity and it did not exceed the quota required by my employer of payment per stay.
When I got there, however some problems occured. I will not be embarassed to share it here – I got lost multiple times, I think 3 in total and each time I spent from 10 to 15 minutes wandering, like John Travolta in the picture below, searching for either my room, or for the "promised land", aka the fitness center: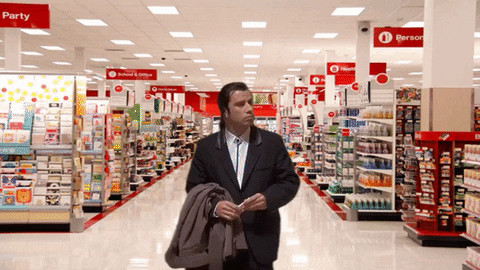 The hotel I usually stay at is a rural 5 floor hotel with a very simple corridor and rooms on the left and right side of the corridor. Tivoli however is a massive 2 tower hotel, where each tower consists of 12 floors, plus a VIP area. Each floor seemed to have a maze-like design, which made it even easier for me to get lost there. Fortunately, this happened only during the first evening and I overcame the confusion.
The fitness center was indeed massive and even pictures did not do its justice. There were two rooms, one for the different kind of weights and specific trainers, the other – trainers for cardio activities. I was happy to see that there were many empty bicycles, I quickly jumped on one of them, configured the saddle height and started spinning my heart away. 5 minutes into the session, I accidentally hit the card holder, which is located just below the arm rest. That is ok. Will need to pay some attention. Another hit with the different leg. That was not pleasant. Will need to pay more attention. Watching some videos on my mobile phone, while spinning, increasing intensity – I hit the card holder once more. Now that is getting personal. I check the handlebars, seatpost, everything and everywhere – perhaps I am missing some configuration an can sit more comfortable to stop hitting the holder. 45 minutes in to the session, multiple hits to my knees and legs, I decide to call it quits and just avoid this trainer altogether. Turns out there is no way around it and its configuration is this strange, so you can not sit otherwise:
Luckily, the session was mild and focusing on endurance spin. In the turn of these events however, I am getting stressed out for my Thursday planned session, where I have to to a 2x18minute sweet spot training, where I will really need to work hard to get to the required power. Tired, stressed and hurting on the knees, I get back to 8th floor – I get lost for the second time. 15 minutes pointless wondering and at some point hopelessly trying to open any door ending with "5", I decide to call it quits and go back t reception to check which is my room number. Turns out I am on 785, not 885. Oh well. Not my evening.
Next day, I have a run planned. As there were 6 treadmills, I did not take any clothes to run outside and decided to do it in the fitness center. This allowed me to carry as less baggage as possible. Back to the fitness center, on to the treadmill. I click "Start" – it does not go, I click "Wake Up" – it does not nudge. I switch the treadmill – nothing. I switch it one, two, three more times – none of them is working. At this point, I have disappointment and some saddness – it feels like this fitness center just does not want me to do any training. I decide to limit the losses and go back to my enemy from the previous day – the bike. Just to do some cardio and move my muscles. I tell incoming colleagues of running world about the treadmill problem as they come in. Then one of them has headphones and does not hear me. He however tries to use the treadmill which is furthest to the left, I have tried 5 out of 6, but not that one – it works. With some disappointment in karma and getting ready to take up this war against the world – I decide not to give up, go back to administration and ask them to fix the treadmills. It takes them up to 45 minutes to fix them and by the time they do – the fellow with headphones gives back the working treadmill and I am already running. I was worried to be doing a heavy interval session 2 hours before going to sleep, but I had to vent all this mild anger lingering within me from these two days. Eight difficult, high intensity intervals and I come down from the treadmill. Happy, exhausted and content with all that was happening. In addition, while I waited for the treadmills to get fixed, I figured out a way to position myself on the bike trainer – which made the sweet spot session, that I was worried about manageable.
It might seem that some days are just there to annoy us or test our limits of how much annoyed can we really be. But in overall, those are just situations, happening at random and for no reason. And it is up to us, how we deal with them. If we can deal with the stacking amount of such situations, we will be able to deal with stuff happening during our races. This is something I for sure need to become better at. So cheers to the shortcomings of this fitness venue, hopefully you made me more prepared for upcoming Ironman Italy.
Random
Song of the week: *shels – Butteflies (On Luci's Way)
Reading: Stephen Hawking – A Brief History of Time
Game: Assassin's Creed: Origins (PS4) / Starcraft 2 (PC)
Average Weight: About 77.6 kg
Hopefully this post has given you a glimpse that sometimes things do not go their way for everyone of us and it is only up to us, individually, how can we can adapt to it and update tracks to the right direction.
❤